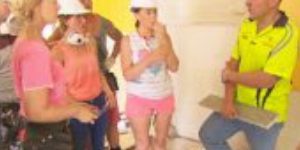 ConcreteFx is a proud supplier of Channel 7's House Rules 2015!
We made a long road trip. We fully loaded our 10t truck and all the concrete polishing gear we could possibly squeeze into it! It was going to be a big ask. But the pressure is something Concretefx has a great deal of experience with! I mean, let's face it… who turns out a 150mm thick, floating vanity, fully formed and polished concrete vanity in only 6 days!
Pangaea Polished Concrete Veneer is the only product on the market that was going to get this job done!
The room was a sight! Half timber, half concrete floor that was in need of some TLC. Polished Concrete was the look that the team was after, but how would you achieve this when half the floor was timber? Polished Concrete Veneer!